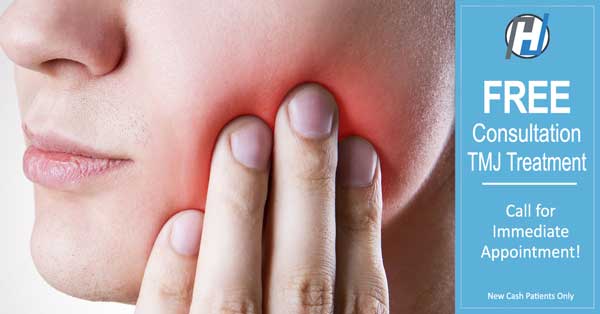 Free Evaluation for TMJ Treatment by Hawthorne Dental Associates
Call the office for complete details on our new patient special!
TMJ Treatment For TMD
At Hawthorne Dental, our friendly team provides TMJ treatment for TMD (temporomandibular disorder) as one of specialties in Hawthorne and the surrounding area. TMD can be the source of many problems; for example, chronic headaches that are often misdiagnosed as migraines. They are one of the more common symptoms of TMJ problems.
TMJ treatment has become a specialized field in dentistry and we have been able to help many patients suffering from TMJ pain and the side effects that come along with it. The temporomandibular joint (TMJ) is the point where the jaw hinges together, and more than 30 percent of the nerves have been found to run through the TMJ. It is not clear exactly what causes the TMJ problems, but when this area is affected, it can cause a variety of pain and nerve related problems that are uncomfortable and frankly, quite surprising. More than 10 million people experience some form of TMD during their lifetimes. During regular exams, we also look for signs of problems that need TMJ treatment. We encourage regular exams at Hawthorne Dental to ensure not only your dental health, but your overall physical health and wellbeing. Many of the issues that we find people suffer from when they come to our practice affect their lifestyles in a number of ways, greatly reducing the quality of life. Our team at Hawthorne Dental are committed to reducing these issues as best as possible and improving the quality of life for all patients.
How Hawthorne Dental Can Help You
TMJ problems may cause things like chronic headaches, neck and face pain, ringing in the ears, vertigo, and tooth pain. The vagus nerve (that regulates digestion and the lungs) runs through the TMJ area. When the TMJ is becomes problematic, this can cause heart burn, digestion issues, and other stomach problems. These are not the kind of symptoms that you would normally expect that need TMJ treatment. These chronic symptoms caused by TMD can compromise your quality of life that we can now treat with TMJ therapy. We want all of our patients to feel happy and comfortable during their everyday lives, which is why we do everything we can to help TMD.
Book Your Free Consultation Today
You can call our office today to schedule your TMJ examination and determine if you will benefit from TMJ treatment Hawthorne NJ. Suffering does not need to be a normal part of your life, and at Hawthorne Dental, we're committed to helping each and every patient that walks through the door. We welcome both old and new patients with open arms, so give us a call to book your free consultation today. A friendly member of the team is waiting to help you!
Serving the areas of:
Hawthorne, Elmwood Park, Fair Lawn, Franklin Lakes, Ho Ho Kus, Midland Park, Ridgewood, Glen Rock, Waldwick, Wayne, Wyckoff, Haledon, North Haledon, Woodland Park, Paterson, Ridgewood, NJ and surrounding areas.