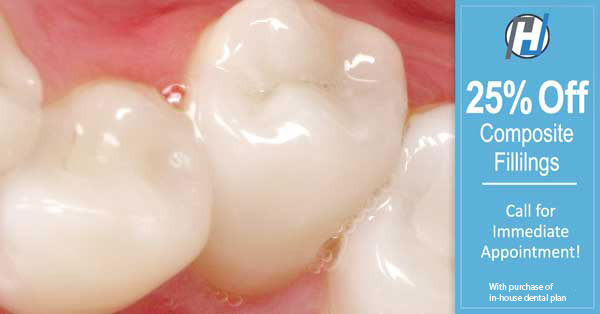 25% Off metal free tooth fillings from Hawthorne Dental Associates
New patient special - call the office for complete details
Our dental practice uses composite white tooth fillings (metal free tooth fillings) to treat teeth that have been affected by tooth decay or other tooth damage that sometimes occurs. This helps to give the teeth a far more natural look. People won't notice that you've had these fillings, unlike traditional metal fillings!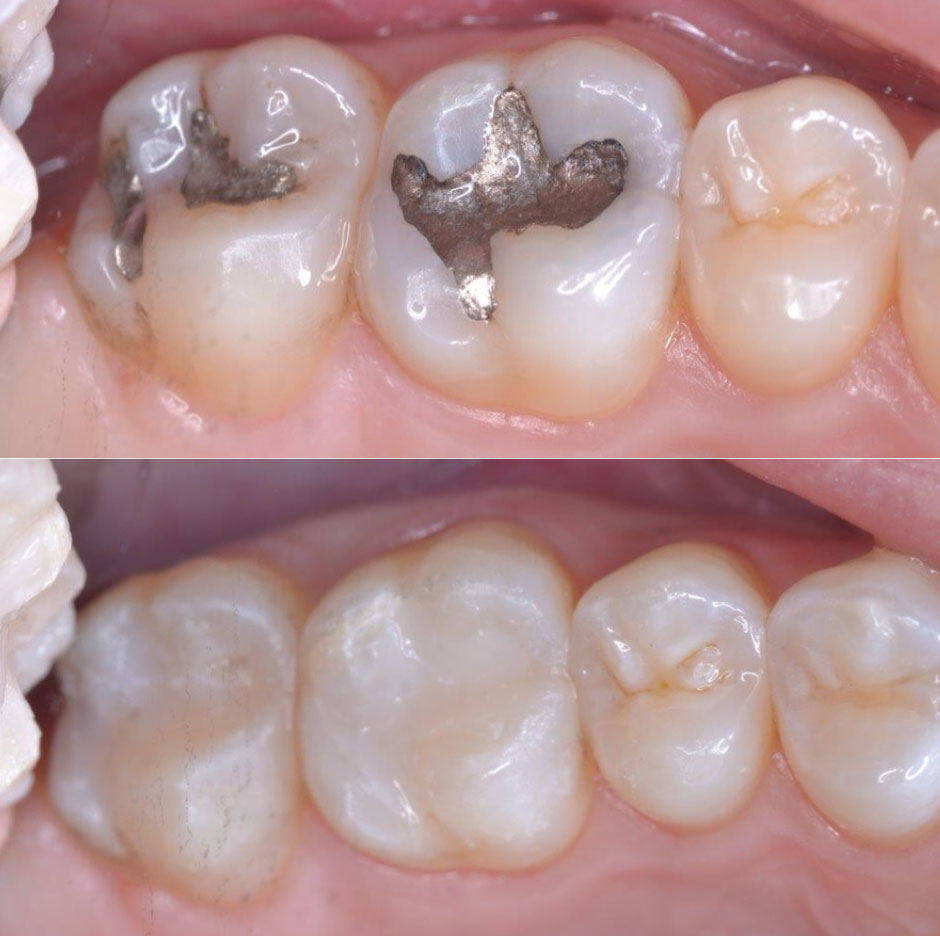 Composite tooth fillings are made of a durable, tooth colored resin that is used to fill the damaged area in the tooth. The composite tooth filling is also known as a 'white filling' or 'tooth colored filling'. The white tooth filling is a great alternative to the conventional amalgam filling that was once primarily used as a tooth filling treatment.
Not only does the composite tooth filling look like a natural tooth, giving you a more attractive smile and appearance, they also, don't contain mercury or any other metals. Many individuals even choose to have their old metal fillings replaced with the tooth colored fillings to improve the overall appearance of their smile and maintain better health. If you already have an amalgam filling, and would like to change it, that is something we can do for you.
The dental filling procedure is very popular among our patients, which is why we encourage routine exams and cleanings to prevent tooth decay. We aim to set up regular appointments with our clients, examining x-rays and other things taken, to ensure that there are no underlying problems that need to be dealt with. With regular dental visits, we can help to keep your mouth in tip top condition. Both a healthier and more attractive smile will be achieved.
If you do have tooth decay, the tooth cavity will be cleaned by Dr. Rosenson so it can be filled with our tooth-colored filling. This filling will be matched to the color of your teeth to ensure the ultimate natural finish. We ensure that the look is undetectable to the naked eye. Right after the filling is placed, Dr. Rosenson will use a special curing light to help dry the resin for a long lasting finish. Your tooth colored fillings with us will look great and last for years to come.
If you have a damaged tooth or tooth pain, you may need a dental filling. Leaving tooth decay unresolved can lead to more severe and painful issues. Call our office today to schedule an appointment and discuss your needs. We're always delighted to hear from new patients and can give you some great advice!
Areas we serve are as follows:
Hawthorne, Elmwood Park, Fair Lawn, Franklin Lakes, Ho Ho Kus, Midland Park, Ridgewood, Glen Rock, Waldwick, Wayne, Wyckoff, Haledon, Paterson, Ridgewood, Woodland Park, Haledon, North Haledo, NJ and surrounding areas.