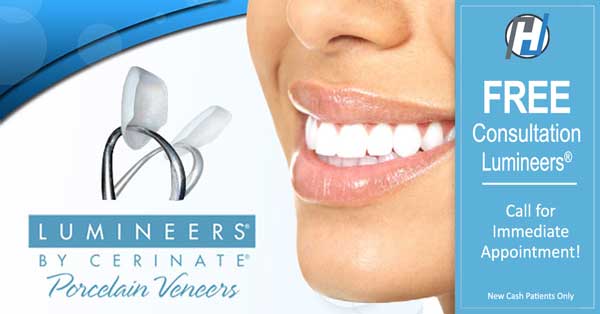 For most people, the appearance of their teeth is a constant concern. It is clear to many that good oral hygiene practice is essential for great-looking teeth. As long as you are brushing, flossing and using mouthwash twice a day, and seeing us for regular check-ups, you are doing most of what you can to keep your smile looking great. But sometimes this just isn't enough. There are many occasions when you will still have trouble with the way your smile looks, and when that is the case you might want a more permanent solution for the problem.
Fortunately, there is much you can do to make your teeth look much better much faster - and one of the best increasingly popular methods is having Lumineers® placed. If you have never heard of them, they are a relatively new way of improving the appearance of teeth, which plenty of dental patients the world over are raving about. So what is it that is so great about the use of Lumineers® to improve your smile?
Arguably the most attractive benefit for most people is the fact that they are quick, easy and un-intrusive to have put in. Traditional style veneers require a lot of work to make them work properly, from drilling to the use of acrylic temporaries. But with Lumineers®, none of this is necessary. So how can that be possible? To understand it better, it might be worth taking a closer look at the process of having Lumineers® put in.
The First Stage
During the first visit, you will have an impression of your teeth as a whole taken, and the mold will be used to create your own personalized and specialized set. Dr. Rosenson might also use photographs of your teeth in order to help them create the Lumineers® as perfectly as possible for you.
The Second Stage
This is when you will actually have your Lumineers® put into place. Before putting them in for good, we need to first check that they fit you as well as possible. If all is well, Dr. Rosenson will apply the Lumineers® by first etching onto your teeth slightly, and then bonding each one in place. After that, the process is complete, and you have a new smile.
You can appreciate from this what a simple process it really is, and how good the results are likely to be. Indeed, there are many happy customers who say that it has completely changed how they feel about their own teeth. This is a powerful way to make your teeth look as good as new, and it might be worth considering if you have confidence issues with your own smile.
If you are curious about Lumineers® and would like to learn more, or you wish to book an appointment, don't hesitate to get in touch today.