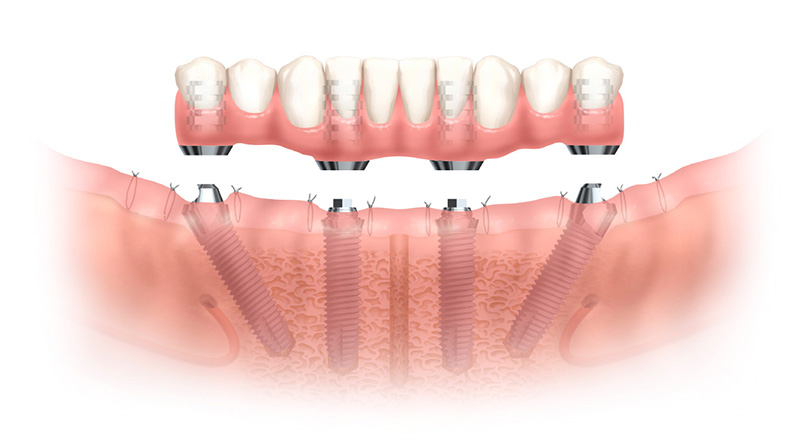 Are All-on-4 Dental Implants Different from Dentures?
All-on-4 dental implants are not dentures. Instead, they're a permanent set of teeth. They feel like natural teeth in your mouth, and they look like natural teeth.
Take a look at the basic features of all-on-4 dental implants:
They're permanent teeth. You brush them just like natural teeth.
You don't have to remove them from your mouth for any reason.
They don't require adhesives.
They don't press down on your gums, so they feel comfortable.
They don't interfere with the taste of food or with the experience of hot and cold in your mouth.
They let you bite with an increased force of 70 percent more, so you can enjoy all your favorite foods.
They help prevent bone deterioration.
They restore the normal appearance of your face.
How Are All-on-4 Dental Implants Different from Traditional Implants?
Traditional implants use six to eight implants per arch, but the All-on-4 technique only uses four implants per arch. The dentist places these implants at an angle, which increases contact with the bone and provides natural support for the implants. All-on-4 implants typically don't require bone grafting, while traditional implants do. All-on-4 dental implants end up saving you discomfort, money and time.
How Long Does All-on-4 Dental Implant Surgery Take?
Plan on about 2.5 hours of surgery for each arch.
What Is the All-on-4 Dental Implant Success Rate?
According to published studies, All-on-4 dental implants show a 98 percent success rate.
What Does the Ideal Candidate for All-on-4 Dental Implants Look Like?
According to the Implant Center at Dental Associates, the ideal candidate for All-on-4 implants either is going to need dentures in the future or currently wears dentures. Candidates for dental implants should be in good health, but their age is irrelevant.
What Is the Process for Making My Replacement Teeth?
Your new teeth are crafted in-house at the Implant Center at Dental Associates by certified lab technicians. Everything, from consultation to making the new teeth to follow-up care, all happens on site.
Do All-on-4 Implants Look Natural?
All-on-4 dental implants look completely natural. More than that, they feel and function just like natural teeth inside your mouth. No one has to know you have implants unless you choose to tell them.
When Do I Get My Permanent Teeth?
When your implants are placed, the dentist will place a temporary set of teeth on them because your mouth needs time to heal, as is true with any surgery. After the healing process is finished, approximately six to eight months after the initial surgery, you'll receive your permanent teeth, which are placed at a follow-up visit.
What If I Need Implants on One Arch Only?
Your dentist can easily place your All-on-4 implants on just your lower or upper arch. If an evaluation shows that you're likely to need replacement teeth on both arches eventually, your implant specialist may recommend performing both procedures at the same time to save you time and money; doing this also produces better results. Ask your dentist to help you choose what meets your health and financial needs.
What Kind of Care Do All-on-4 Implants Require?
Treat your dental implants like natural teeth. Brush and floss them daily. Our dental hygienists and other specialists will go over oral hygiene with you and recommend the most appropriate routine.
Should I Expect Any Additional Costs or Fees?
During your consultation appointment with Dr. Csillag, we'll discuss all the fees involved, so you don't have any surprises. Call us today to schedule a consultation.