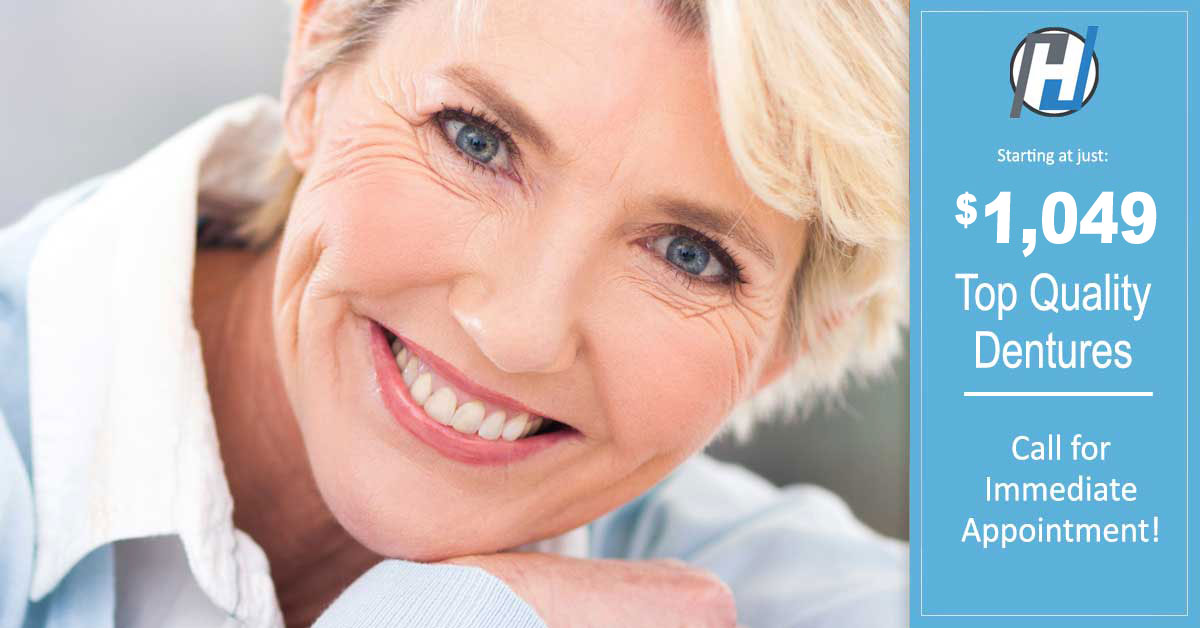 Quality Dentures at Great Prices!
Tooth loss is a common problem for adults all over the world. You might have lost some teeth due to prolonged and severe gum disease, as a result of an infection, or possibly an extraction as a way to stop tooth decay spreading to other parts of the mouth. But whatever the cause of your tooth loss, there are always solutions at hand - and one of the most common is to have dentures put in.
It might seem as though losing a tooth, or multiple teeth, is already bad enough. But when you lose teeth, it can cause a wide array of further problems, and it is these which people often completely overlook. Missing teeth can result in a poorer smile, a cosmetic issue which nobody wants to have to deal with if possible. But that is only the least of your concerns; you might also experience a sunken face effect as a result of your remaining teeth shifting alignment. This is not even to mention the probable issues relating to eating and chewing, and even swallowing.
Dentures offer a solution which is permanent, and which can restore your oral health dramatically. When the procedure is carried out properly, dentures can help to regain a sense of confidence in your smile, as well as having strong teeth which can last you for as long as you live.
There are generally two major types of dentures, and depending on your situation you might need one or the other. Partial dentures are when you have only lost a few teeth; generally, these are affixed to the remaining teeth, which means that it is hugely important that you take proper care of the remaining teeth, as well as your gums and jaw. Full dentures, however, are exactly what they sound like: a complete replacement set of teeth, made to fit the mouth as closely as possible.
If you come to our office to have new dentures made, you can be sure that you leave satisfied with your new smile and fit of your new dentures. We make sure that the adjustment process to your dentures goes smoothly and with the least amount of discomfort. As long as you take care of your new dentures, following your dentist instructions, you should be able to wear them for years.
Dentures are made to last, and with the proper care they will do just that. However, it will also be beneficial to know about a few key products which will make this hygiene even easier to uphold. On top of that, you should remember to come back and visit Dr. Rosenson once every six months if you want your dentures to remain in the best possible condition.
For a well-designed natural-looking set of dentures installed by a friendly professional, don't hesitate to get in touch today.
Denture Options
Full Dentures
Partial Dentures
DENTURE TYPE

Classic PlusComfort® Dentures
Better PlusComfort® Dentures
Best PlusComfort® Dentures
Premium PlusComfort® Dentures
Top Denture View
Bottom Denture View
Price Per Denture


Fee for extraction or other extraordinary costs not included.

STARTING AT


$899


PER DENTURE

STARTING AT


$1,250


PER DENTURE

STARTING AT


$1,570


PER DENTURE

STARTING AT


$1,820


PER DENTURE

Materials
Unaccented materials
High strength, high-grade compound
Wear resistant, high-grade materials
Lightweight, impact, odor, wear and stain-resistant compund
Warranty
6 month
1 year
3 year
5 year
DENTURE TYPE

Cast Metal
Flexible
Combination
Price Per Denture


Fee for extraction or other extraordinary costs not included.

STARTING AT


$1,250


PER DENTURE

STARTING AT


$1,359


PER DENTURE

STARTING AT


$1,650


PER DENTURE

Materials
Cast metal frame and clasps. Created with materials known as the industry standard
Flexible plastic with flexible clasps. Lightweight, durable compund. metal-free
Combination of cast metal frame and flexible plastic clasps. Lightweight, flexible materials, plus metal framework for stability
Warranty
2 year
2 year
2 year