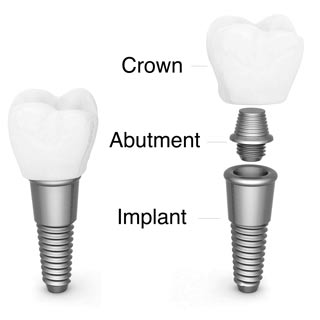 New patient special / Call office for complete details
Dental Implants
Dental implants probably are the most exciting and life changing procedure in dentistry. It is now possible to replace one or more missing teeth with natural looking and feeling dental implants and keep them for many years. They are the most reliable solution nowadays for teeth replacement, having a very high success rate.
Dental implants are aimed to:
Improve patients comfort and confidence
Improve chewing function
Improve smile
Preserve jawbone
Implants are, essentially, titanium made tooth roots, placed in the jawbone, and they are used to support teeth function.
A complete dental implant consists of three components:
The dental implant (a titanium screw)
The implant abutment (a titanium made post like structure,connecting implant to crown)
The crown (made of porcelain)
Dental implants have numerous possible applications:
To replace one or more teeth without affecting adjacent teeth
To support fixed bridges or replace a removable partial denture
To help support or secure upper or lower full denture.
Generally, person needs to be in good overall health, as well as heaving healthy mouth in order to be a good candidate for dental implants. Active periodontal (gum) disease, smoking, poor oral hygiene, certain medications can have a negative effect on dental implant treatment. Just like natural teeth, implants require a thorough oral hygiene at home, and regular dental check-ups.
We, at Hawthorne Dental Associates, are group of health professionals, working as a team to achieve the best possible result for our patients. We offer high quality dental implants in the state of the art dental office at reasonable fees. Here, at Hawthorne Dental, we have an experienced implant surgery specialist, who is Board Certified Periodontist; a General dentist, who has many years of experience in dental implant restorations; and a team of wonderful dental hygienists, who are there to take care of all oral hygiene needs of our patients.
Implant supported dentures, overdentures
Dentures are made to replace the structure and functionality of missing teeth. Their advantages are that at affordable price patient have a quick and fairly esthetic solution to replace a number of missing teeth. Disadvantages with dentures are: they get loose, unstable while eating or speaking; denture wearers cannot taste their food properly. Dental implants can act as anchors to stabilize dentures (mplant supported overdenture) , making them more comfortable, and unable get smaller size denture.
Dental implant bridges:
That is the permanent solution for missing teeth. It replaces several teeth in a raw, and gives a great permanent and natural looking alternative to full and partial dentures.
Additional procedures in implant dentistry by Hawthorne Dental Associates:
Bone Grafting: Bone grafting treatment is often used to prepare the jaw bone for an implant, or rebuild bone lost to periodontal disease or tooth extraction. This procedure helps maintain width and volume of bone for eventual implant placement.
Sinus Grafting: This procedure is required when the amount of bone available for implant placement in posterior upper jaw is limited due to sinus proximity. During this procedure, bone grafting material is added to the floor of the sinus to help in creating bone volume.