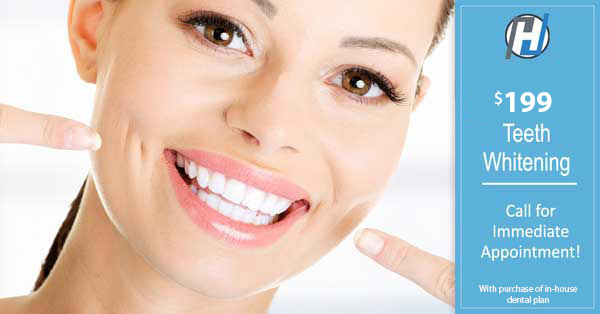 50% off Teeth Whitening by Hawthorne Dental Associates
Call the office for complete details on our new patient special
Teeth whitening is one of the best ways to quickly and effectively give your smile a boost. At Hawthorne Dental Associates, we can provide a variety of professional teeth whitening options to suit different budgets and needs. Some of our teeth whitening procedures can take as little time as one hour, so you can be in and out with your new bright smile in a flash!
Why Do We Need Tooth Whitening Treatments?
Yellowing of the teeth happens naturally through eating many foods and beverages, smoking, and aging that stain the teeth. Avoiding bad habits, drinking through straws, and avoiding foods that stain can help, but it's all a natural part of the aging process. The yellowing of your teeth can leave them looking dull and can make you look older. Teeth whitening elevates your smile and can make you look years younger, as well as give you more confidence.
Teeth whitening at Hawthorne Dental Associates is the best way to improve the color of your teeth. Teeth whitening products contain bleaching agents that will carry away the stains attached to the enamel of your teeth. We advise to have the whole procedure monitored by our dentist to make sure that the teeth enamel is not damaged. There are many people who offer teeth whitening treatments out there, some at ridiculously cheap prices, but they are not professionals and will not make your oral health a priority like we do. We perform an exam to ensure that the teeth condition is optimal to handle the teeth whitening prior to the procedure.
At Hawthorne Dental, your dental health and general health are our main priority. Professional teeth whitening is far more effective and safer than any other treatment out there. There are many products on the market, but not all of them are good for your teeth. They may get you a whiter result, but you run the risk of damaging your enamel, making your teeth sensitive, and suffering from a host of other problems. You just can't be sure that you're spending your money on something safe and worthwhile. At our practice, teeth whitening is an affordable option for a quick and beautiful result.
The price of a teeth whitening procedure can vary depending on the whitening procedure chosen and the level of whitening you want. However, whatever procedure you select, we ensure a beautiful, healthy result. Call our office today to discuss the wonderful benefits and the best option of teeth whitening to obtain the result you desire. A member of our friendly team will be happy to answer your questions and get you booked in for a consultation!
Serving the following areas:
Hawthorne, Elmwood Park, Fair Lawn, Franklin Lakes, Ho Ho Kus, Midland Park, Ridgewood, Glen Rock, Waldwick, Wayne, Wyckoff, Haledon, Paterson, North Haledon, Woodland Park, NJ and surrounding areas.